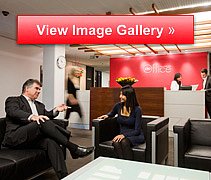 Serviced Office for Rent Auckland
CBD Office offers a range of newly-renovated and refurbished, professional office space right in the heart of Downtown Auckland.
Our Serviced Offices provide a very flexible approach to doing business as they can accommodate anything from a 1 to 10 person business and have no minimum term.
All are fully-furnished and have external windows, natural light, city views and hard-wired or wireless access to the fastest fibre-optic broadband internet in the country.
CBD Office is opposite two 5 Star Hotels; the Quay West Hotel and Stamford Hotel and is within easy walking distance of the vibrant Viaduct Harbour (Auckland's premier restaurant and bar location), Queen Street and the Downtown Ferry Terminal. A public bus stop, Taxi Terminal, Medical Centre, Chemist, Coffee shop and convenience store are right on the doorstep. Britomart Transport Train Station, Westfield Downtown Shopping Plaza and the award-winning Food Alley, Viaduct and Wynyard Restaurants are also only a short stroll away.
Benefits of a Virtual Offices Service in NZ
A welcoming reception for you and you visitors.
Fully-furnished and ready to use office space with contemporary furniture *
Fully-equipped internet facility and phone system already in place.
Your telephone is answered by our receptionist in your Company name and forwarded to your office or mobile with no additional cost for business to local business or business to local private calls.
Unlimited use of Fibre-optic broadband internet
Executive Boardroom and Meeting Room readily available
Professional support team on-site
Save up to 65% compared with leasing a conventional office space
Display your company name at the lobby and level 4 reception area
Flexible to your requirements
Simple lease agreement
Paperless billing
Single monthly invoice
24/7 Office access
Sign now, Start now
* Conditions apply
Plus FREE Services:
Use of an Executive Boardroom for up to 1 hour per day.
Office assistant. Incoming mail is picked up from our post office box, dated and placed on your desk.
Tea, espresso coffee, milk, sugar and filtered water.
Sky TV and newspaper at the reception.
Cleaning of your office twice weekly and rubbish removal
Utilities (No Water or Power Bill)
OPEX (No Body Corporate or Council Rates)
If you have any queries please do not hesitate to contact us.