Advantages of Serviced Offices and Shared Office Space in Auckland
Your business deserves a great office space, with all modern amenities and accessories that make working a pleasure. Your employees also deserve to work in a friendly environment, without having to put up with various problems that aren't part of their job description. Unfortunately, renting such office spaces isn't cheap, so you need to have to very lucrative and profitable business, in order to afford this kind of space.
Luckily, there is a solution that enables startups and small businesses to enjoy high class offices without having to take a loan from the bank to afford them. This solution is to rent space in serviced offices. By choosing this route, you can take advantage of advanced security systems and monitoring services, without having to pay their full cost. Since the building comes with all amenities and services included in the rental price, you're going to benefit from everything, once you agree to pay the monthly rent. This is how you can focus on your busienss rather than of hiring a concierge or a secretary, renting a conference room or an event hall whenever needed, and many other such time consuming activities.
By going for serviced offices, you are going to find everything you need right there, on the spot. Many such buildings include modern elevators, reception services, conference halls with everything they need for a business presentation, kitchens and state of the art communications solutions. Why bother with finding the best broadband internet providers, when you can simply come and connect your computers to the main network of the building? Besides, you're going to take advantage of the IT infrastructure of the building. The last thing you need when you move office is to spread wires across all rooms in a desperate attempt to avoid interruptions in your work flow. By choosing a serviced building, everything is going to be there for you right off the bat.
Companies that offer such services are usually more flexible when it comes to their rental terms. A conventional lease is always more restrictive, forcing you to agree to setting you may not really like. On the contrary, this modern type of space allows you to choose your preferred configuration. Besides, you're going to be able to add more space on a very short notice, should you decide to expand your company and hire more people. This would enable you to grow at your own pace without having to consider moving office each time you increase the size of your team.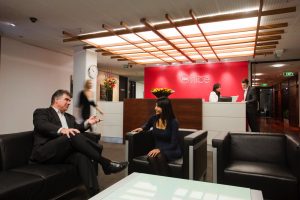 These moderns buildings enable their tenants share lots of business facilities and machines. This is how you can benefit from the most advanced equipment without having to purchase it. Besides, you won't need to have administrative staff on your payroll, since all these duties are going to be handled by the employees of the building. If you do the math, you can see this is a very important saving you can make. When your business is small, keeping a low headcount can make the difference between dominating your market and going home.
Call us NOW on:09 303 9090 to find about about out "3 Months Half Price" Special,
or CONTACT US